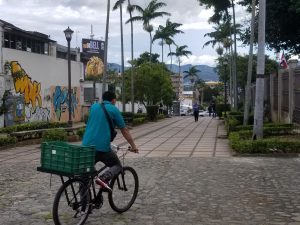 Alan and I had been hearing good things about Costa Rica for years, and our friend who lives there posts lots of photos that really made us want to go check it out.
We flew into San Jose on a Wednesday and headed straight for the Hotel Bougainvillea, which features a stunning 10-acre tropical botanical garden. We were fortunate enough to get a garden-view room with a big deck that served as a relaxing place to enjoy an afternoon glass of wine, which you will need after driving in Costa Rica. Indeed, driving in Costa Rica is challenging and not for the faint of heart!
The next day, we visited the La Paz Waterfall gardens which are amazing, as are the lush tropical rain forest, flowing white rivers, spectacular waterfalls, birds, butterflies, monkeys, hummingbirds, snakes, felines, frogs and much more.
We also toured a coffee plantation, where they process the java on equipment that is more than one-hundred years old and operated completely on water-driven, gravity-fed equipment.
The next morning, we drove the 135 miles over the one mountain road towards Puerto Viejo on the Caribbean side. The trip took about five hours, which gives you an idea of what the roads are like.