Michael and Donica Byers were first-time home buyers when we began working together in 2015. We toured home after home for months with no success, and they were getting restless. Donica was pregnant, it was a HOT summer, and she seemed miserable. I felt so bad for her.
Then, one day we were touring available homes and it occurred to me to show them one I had just recently listed. I didn't really think it was right for them, but was grasping at straws by this point. They didn't say much while we were there, so I assumed that it wasn't the right house for them.
But the next say, while I was there hosting an open house, they returned on their own with some family members and stayed for quite a while. I was shocked when they announced that they wanted to make an offer.
That said, I don't do dual agency sales, so I referred them to my trusted friend and colleague Dorothy Driver. I knew there would likely be multiple offers, and that Dorothy could help them win.
Sure enough, the house got three offers, and the Byers got their first home.
Not long after, Donica had twins.
Despite being busy with not one but two new babies, Michael and Donica made some fantastic improvements to the house, such as a new bathroom, new plumbing, new wiring, new paint and landscaping.
Then last year, Donica had their third baby, and it was clear they had outgrown their two-bedroom house. Also, Donica got a job in Port Townsend, so they decided that it was time to make the move.
They hired me to help them sell their house, and I stopped by to help them assess what they needed to do to prepare the house for the market. They worked really hard getting things ready, all the while caring for their three young children. I don't know how they did it!
Once they moved to Port Townsend, I helped them manage contractors, inspectors, house cleaners, window washer, and more, since they were too far away to keep running back to Seattle.
Just as we were about to go on the market, three other similar neighborhood listings hit the market. I toured the other properties to assess if their price, condition, and location to help us develop a pricing strategy. We considered waiting to list until one of the others (the most serious competitor of the three) went under contract, but Michael and Donica decided against it.
Their house hit the market on a Friday, I held open houses on Saturday and Sunday, and we had four offers by Sunday afternoon. Michael and Donica chose a buyer who could close in two-weeks, and next thing we knew, the offers escalated to almost 6% over list price, even in our slowing market.
Michael and Donica were thrilled with the results and will soon be searching for their new Port Townsend abode. Congratulations, all!
Do you need help selling your home in this intense market? My mission is to help you achieve your life goals. Contact me today at 206-250-7291 or donkoonce@windermere.com.
Posted on November 25, 2018 at 12:30 am
Don Koonce
Category:
Uncategorized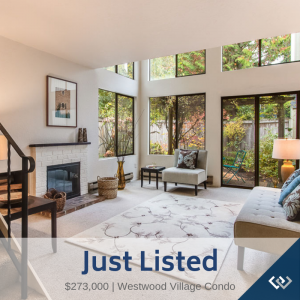 8448 26th Ave SW A
Seattle, WA 98106
Listed at $273,000
Lofted design, soaring vaulted ceilings, spectacular window walls of light and air create an exciting living space for those seeking a unique, non-cookie cutter abode. Private end unit in pretty setting, grand-sized liv rm, seamless transition to outdoors with true backyard, fenced for Fluffy or Rover. Formal din, kitchen bar, great pantry storage. BIG Master Bedrm & versatile loft space up. Ideal location! Walk to Westwood Village, Rapid Ride to downtown, close to Junction, easy access to airport.
MLS #: 1379439
2 BR
1.5 BATH
1,014 SQFT
Taxes: $2,002 (2018)
Type: Condo/Townhouse
Year Built: 1979
Views: Territorial
Community: Westwood Village
Information provided as a courtesy only, buyer to verify. For more, go here.




Posted on October 31, 2018 at 5:00 pm
Don Koonce
Category:
Uncategorized