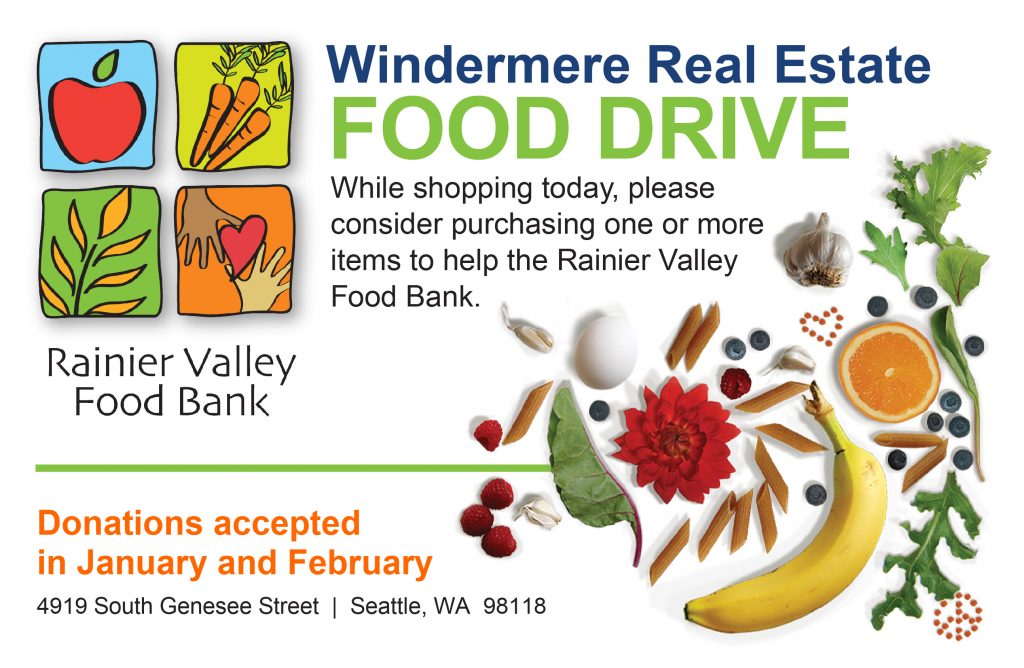 Dear friends,
My office—Windermere Mount Baker Real Estate—is gearing up for our annual Winter Food Drive benefiting Rainier Valley Food Bank (RVFB), a South Seattle nonprofit dedicated to a hunger-free Rainier Valley, and we need your help.
RVFB offers assistance through the following programs:
You can bring your contributions (see list below) to the Windermere office (4919 S Genesee St., Seattle, WA 98118/206-725-7255) from January 22 through February 28, or contact me for pick-up.
In the meantime, Rainier Valley Food Bank (4205 Rainier Ave S, Seattle, WA 98118) will happily accept your generous donations now. Thank you!
Types of Food to Collect
All foods collected should be non-perishable. RVFB is most in need of high-protein, nutritious foods including:
Canned chicken, tuna and salmon
Beef stew, meat soups
Hearty soups
Canned vegetables and fruits
Dry or canned beans (kidney, pinto, green, yellow, refried or black beans)
Peanut butter
Pasta
Rice
Pancake or baking mixes
Cereal and oatmeal
Granola bars or energy bars
Ensure or other nutritional supplement drinks
Baby food and formula