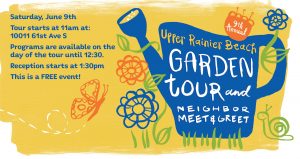 Dear friends,
I'm thrilled to announce that Alan and I will participate in the 9th progressive Upper Rainier Beach Garden Tour & Neighbor Meet and Greet coming up on Sat., June 9.
Participating in the garden tour is how I met most of my neighbors, who have since become great friends. In fact, I was working on my sidewalk garden when one of the garden tour organizers came by and invited me to participate in the tour.
Of course I said yes, since I love gardening, and we had coincidentally been on the Columbia City garden tour the very the day that we moved to our new house in Upper Rainier Beach.
The Upper Rainier Beach Walking Tour also includes several of my neighbors' lovely and inspirational gardens. The event is concentrated in the southern part of the neighborhood and begins at 11 am at 10011 61st Avenue South near South Cooper Street. A reception with with food, live music, drinks, and socializing will follow. It's such a fun event, I look forward to it every year.
Gardens may be viewed individually or in small groups between 11 am and 2 pm. Programs will be available until 12:30 pm and can be picked up at 10011 61st Avenue South near South Cooper Street.

Donations are appreciated to help cover costs.
Please note: This tour is not designed for pets or small children.
Hope to see you there!