The West Hill neighborhoods of Bryn Mawr, Lakeridge, Skyway, and Earlington are dotted with Little Free Libraries—tiny, usually homemade book shelters serve as "take-a-book, leave-a-book" stations where neighbors can share their favorite literature and stories.
"This is an area where a lot of kids walk to school," said one West Hill neighbor with a Little Free Library. "Also there is a fire station and food bank and post office. A young neighbor moved in and has motivated myself and others to own the neighborhood an help make it a better place to live."
According to littlefreelibrary.org—a nonprofit organization that inspires a love of reading, builds community, and sparks creativity by fostering neighborhood book exchanges around the world—the movement began in 2009 when a Wisconsin man built a model of a one-room schoolhouse as a tribute to his mother, a former school teacher who loved reading. He filled it with books and put it on a post in his front yard. His friends and neighbors loved it so much that he built several more and gave them away. Each one had a sign that said FREE BOOKS.
"We wanted to have a little free library in our neighborhood," said another West Hill neighbor. "I went looking for some materials at a local recycle material store and found that they had old newspaper boxes for sale. I modified one, giving it a roof and a basement."
It's no surprise that the idea took off in the Seattle area—once voted the nation's most literate city. And the south-end is no exception. Below are some of my favorites.
Do you have a favorite Little Free Library in the south Seattle area? Want your own? Check out littlefreelibrary.org for more information.
10 West Hill/Renton Little Free Libraries: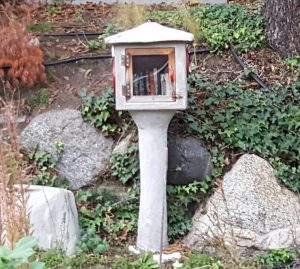 1. Charter #5042: 76th Ave. S. between S. 124th St. & S. 122nd St.
Lat: 47.50505
Long: -122.23162
2. Charter #40527: S. 117th St. between 80th Ave. S. & 82nd Ave. S.
Lat: 47.50632
Long: -122.23509
3. Charter #17271: Dixon Dr. S. between Oakwood Ave. S. & S. Lakeridge Dr.
Lat: 47.50647
Long: -122.23921
4. Charter #2227:
Lat: 47.49243
Long:-122.23791
5. Charter #16880: S. Sunnycrest between Woodley Ave. S. & Crestwood Dr. S.
Lat: 47.50949
Long: -122.25571
"I'm a voracious reader and I'm hoping to share my favorite books with anyone interested. Don't be shy–take as many as you want, and leave a few, too!"
6. Charter #21747: 62nd Ave. S. off S. Ryan St.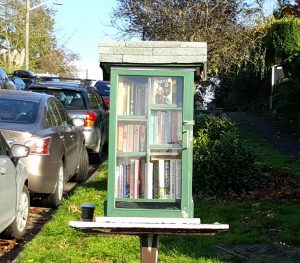 Lat: 47.4983099
Long: -122.23116
7. Charter #2478: Btween 62nd & 63rd off S. Ryan St.
Lat: 47.51006
Long: -122.25504
8. Charter #4458:
Lat: 47.47515
Long: -122.20511
9. Charter #29061:
Lat: 47.4853499
Long: -122.20304
10. Charter #13237:
Lat: 47.4849699
Long: -122.20075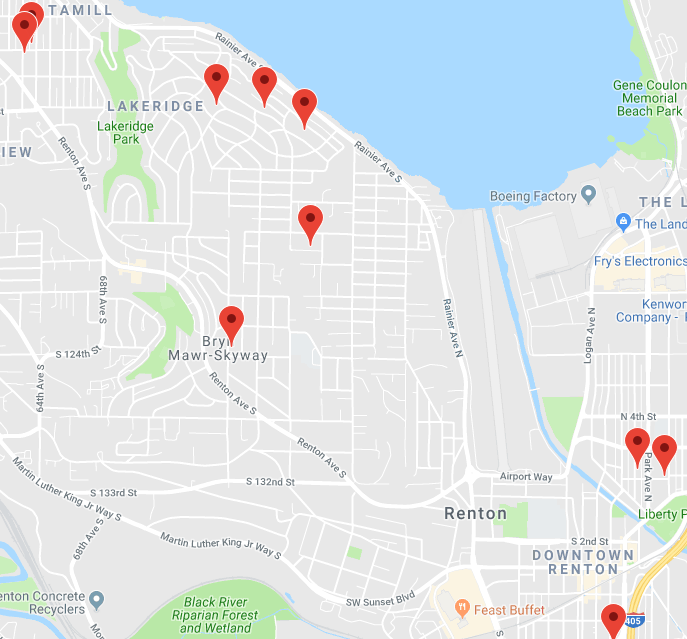 Photos/GO: South Seattle