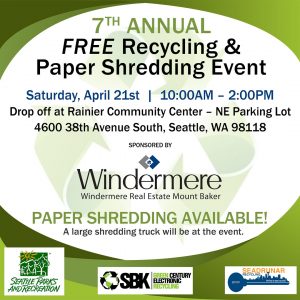 Hi friends,
Are you wondering what do with all the stuff you've piled up while spring cleaning? Not to worry, we can help!

Next month, my office, Windermere Mount Baker Real Estate will host our annual 7th annual Free Recycling & Paper Shredding Event at Rainier Community Center (4600 38th Ave. S.).

Bring your old laptops, BBQs, phones, cameras, and TVs. Empty out your old paper files and bring them to our big shredding truck for immediate destruction.
The event is scheduled for Saturday, April 21, from 10 am to 2 pm.
Please call me at 206-250-7291 for more information.
Hope to see you there!
Don